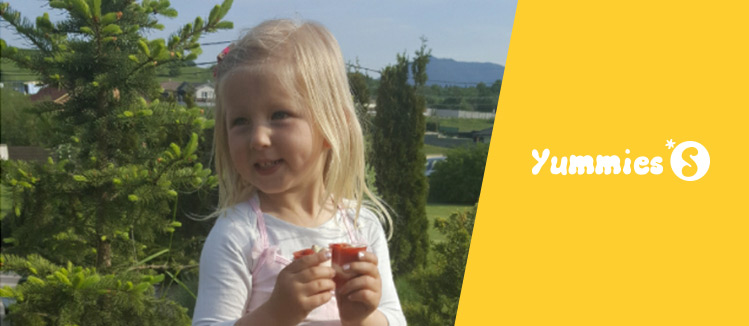 12. jún
My name day party
Hello buddies,
I think that you also like kids parties. I had a nameday few days ago and I invited some friends of mine to have a fun together. I was thinking about a garden party in fairy theme. You know, I just like fairies so much and I decided to prepare some funny contests and handmade magic wands with sparkling glitters for my guests.
I told you about Fairy Topinamba last time so I realised that it would be a great idea to hide some candies in the garden and I worked out a "battle" plan for everybody. We had a fantastic time when playing this game, we smiled a lot and we roamed across the whole land trying to find fairy Topinamba´s favourite candies. At the end of the day, we were pretty tired and got hungry. I will tell you the recipe for delicious yummies, which were served 🙂
The colourful yummies of Forrest Fairy
Fresh strawberries

250g cashew nuts
Vanilla
120 ml water
First of all, soak cashew for at least 2 hours, pour out the water and put them in a high-speed blender, add water, vanilla, *sunroot syrup and mix well untill you reach a smooth consistency. Put the cashew creme into a fridge for a while.
For a strawberry purree, mix fresh strawberries with vanilla and *sunroot syrup.
In a small cup, put a layer of strawberry purree, add *sunroot medallions, then add a layer of cashew creme and *sunroot medallions, again. Put a second layer of strawberry purree, decorate with *sunroot candies and a piece of fresh strawberry. Serve and enjoy J
P.S: If you don´t have a time to prepare cashew creme, you may easily replace it with a yoghurt 😉
Yours,
*S