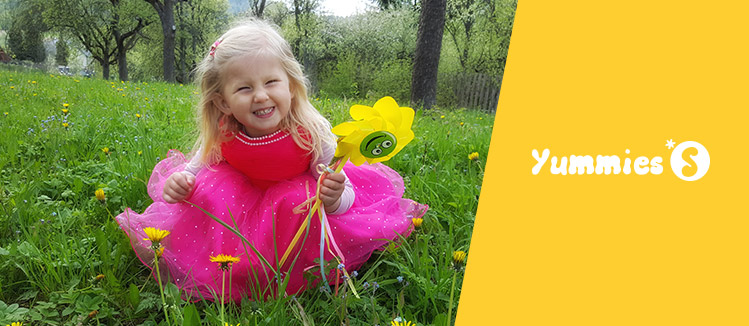 09. máj
Fairy Topinamba´s golden dessert
Hello buddies, I like dreaming so much! I close my eyes and I am wandering around… Not long ago, I discovered The Sunny Kingdom, a beautiful land of magical fairies! I found a glamorous meadow when I was roaming around… Well, it was magic, literally! I took a deep breath and I was listening to a silent whisper of golden flowers and to mysterious carillion which was floating in the air. And then, she touched my cheeks for the first time! The sunny fairy, Topinamba…. She had wonderful golden hair and was dressed in an amazing dress weaved from the goldish flowers! She smiled at me and kindly
waved by her magic wand… and she surprised me with fabulous dress made up of roses! She waved by her magic wand again and I could spot a white horse waiting for me. I felt like a princess! Surrounded by thousands of flowers, Topinamba was dancing very soflty and gracefully and she let herself to be carried away by a breeze… At the end of the day, she invited me for a lunch to her mysterious yellow castle.
Have a look at the dessert 🙂
Fairy Topinamba´s golden dessert
1 yoghurt

2 spoons of mascarpone
½ tea spoon of vanilla
Fruits of your choice
Mix mascarpone with yoghurt and vanilla. Put medallions into a cup with few drops of *sunroot syrup, add a layer of mascarpone creme and fruits and a layer of medallions. Decorate with *sunroot jam and fruits of your choice.
If you would like to prepare fairy Topinamba´s fresh elixir as well, feel free to enjoy the following recipe:
In a bigger glass, mix water with *sunroot juice. Add fresh mint or bee balm and serve 🙂
Yours,
*S